I get tired of eating chicken all the time. Enter shrimp, or prawns, as the Aussies call them.
Ingredients:
1 lb of shrimp, peeled and deveined
6 oz Greek yogurt
1/4 cup chopped cilantro
2 tbsp lime juice
1/2 tsp cayenne pepper
1/2 a head of cabbage, thinly sliced
8 corn tortillas
4 tsp extra virgin olive oil
salt and pepper to taste
fancy iPad photography
Directions:
Mix yogurt, cayenne, lime juice, cilantro, and salt in a small bowl, set aside. Heat two teaspoons of olive oil in a medium nonstick skillet and add cabbage. Cook for about four minutes or until the cabbage is just barely wilted. Season with salt and pepper and set aside. Cut shrimp into thirds making bite size pieces. Saute in two teaspoons of olive oil and season with salt and pepper over medium heat just until done. Heat tortillas over medium heat in a dry skillet until warm. Make your tacos by placing a scoop of cabbage on the warmed tortilla, then top with shrimp and cilantro sauce.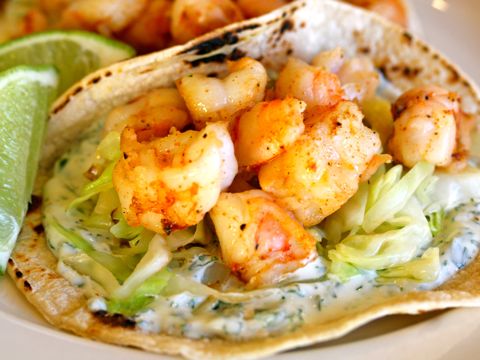 legit food photography found here
E: 9
A: 8 - fresh ingredients? trip to the grocery store.
T: 9
HH: 8 - we both agreed the cabbage was not our favorite and the cayenne pepper was a bit much (maybe substituting with cumin next round)